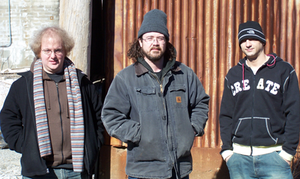 Exit Strategy
:
Chris Ramey - guitar, vocals
Jonah Magnoni - drums, vocals
Stephen Waud - bass, vocals
This was Chris' power trio in Burlington, VT from 2004-2006. 
Exit Strategy
focused on his original material and funk, rock and reggae covers.  Notably, the group appeared at Red Square July 3rd, 2006 for an
epic
(!) show complete with pyrotechnics provided by the city of Burlington's fireworks.  "Pushin On" and "Elderberry Wine" are from June 2006 demo recordings and "Melt" is from November 2005.  There are several recorded live shows that have yet to be reviewed in the archive project.  Expect more original tunes to surface from this period, including "(Smoke and Drink) At The Same Time" and "Hurry Up and Wait."