Jolly Gargoyle Music
0:00/5:27

0:00/4:55

0:00/5:49

0:00/4:54

0:00/4:26

0:00/4:26

0:00/8:26

0:00/3:55

0:00/8:34
Jolly Gargoyle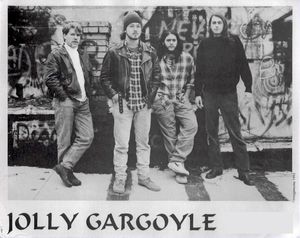 Jolly Gargoyle:

Mike Pushkin - guitar, vocals
Chris Ramey - lead guitar, banjo, mandolin, vocals
Matt Voth - bass, vocals
Gregg Lowley -drums
Enablers:
D - perc
Joey Johnson - drums, perc
Hilen Humphrey - drums
Lisa Sarno - drums
Chris started playing music with Matt Voth (bass) and Mike Pushkin (rhythm guitar) while a junior at George Washington High School in Charleston, West Virginia, back in 1987. A mutual appreciation of
Grateful Dead
music was what brought them together to form the group
Live Bait
, which used to study and perform classic and psychedelic rock from artists like the Dead,
Pink Floyd
,
Jefferson Airplane
,
Bob Dylan
,
King Crimson
, and many other classic rock artists, especially the Dead.  Did I mention the Dead, yet?  Live Bait played area parties, senior skip days and benefits until Mike and Matt went to West Virginia University in Morgantown, WV, in 1988. Chris joined them there in 1989 and was soon happily playing weekly in the sloppy student bars of the infamous party school town as a member of
Jolly Gargoyle
.
The band scored a weekly house band slot at the Stadium Inn in Sunnyside (later Montanaro's). There was standing water in the bathroom that puddled out in front of the bathroom door.   JG used to share shows there with another new local band called
Rasta Rafiki
,
where one group would play first and the next time the other would open.  There were farm parties and John Henry Blues Society jams and way too many open mic nights back in these college years.
By 1992 the Stadium Inn had shut down and Jolly Gargoyle was shopping around for drummers. They met Gregg Lowley (later a fulltime member of The Recipe) and recorded tracks out at Frozen Sound, a local studio run by Kim Monday, a seasoned musician, producer and master instrument repair specialist. The result was a self-titled cassette with cover art by Mike's talented older brother
David Pushkin
, a woodcut print entitled "Sic Dog."  Special thanks to Kim for retrieving a digital copy of the release from the Frozen Sound archives.  Thanks, Kim!  You rock!  :)
This classic
Jolly Gargoyle
self-titled 1992 release is on this site's stream and is available for
download
!  Fans pick the price!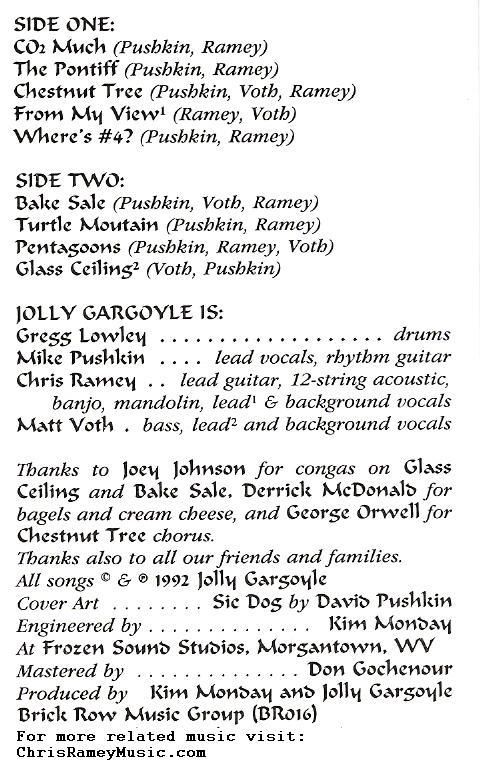 There are additional Jolly Gargoyle flyers, photos, press material and analog recordings that have yet to be digitized and uploaded. 
Sign up
for updates!