0:00/4:13

0:00/4:05

0:00/5:57

0:00/7:49

0:00/6:09

0:00/3:58

0:00/5:23

0:00/6:59

0:00/4:36

0:00/4:01

0:00/9:09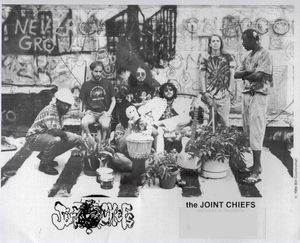 The
Joint Chiefs
began in the summer of 1993, with the breakup of Morgantown psychedelic-rock band
Jolly Gargoyle
and the departure of Charleston, West Virginia high schoolmate Matt Voth (Matty V) to Pittsburgh to play bass with the
Earthworms. 
Chris Ramey and Mike Pushkin soldiered on and created a new group with an entirely different sound. Inspired more and more by
Parliament/Funkadelic
,
James Brown
,
Sly and the Family Stone
, and other classic 60s and 70s funk artists, the duo began composing new material in the grey area between the funk and the Dead. Mike and Chris also shared a common interest in roots-country and blues music, so they began doing things like
Hank Williams
' "I'm So Lonesome I Could Cry" with a funky soul rhythm, and "Sixteen Tons" by
Tennessee Ernie Ford
in a similar funk fashion. The first version of the Joint Chiefs was Mike on vocals and rhythm guitar, Chris on vocals and lead guitar, and a rhythm section whose names, for some reason, completely escape the perforated recollections of this author.
The first official
Joint Chiefs 
show occurred in the fall of '93 at the old Nyabinghi with
Granny's 12 Gauge
, another newly formed group composed of local friends. The Joint Chiefs were experimenting with their own music in the funk genre, mixing in Deadhead psychedelia and country-rock roots.
David Loyd
, who was then the keyboardist for
Rasta Rafiki
, and a neighbor of the Chiefs in the apartments above the Nyabinghi Dancehall (now 123 Pleasant Street), said he knew a kickass bassist from his old hometown of Detroit named
Elisha Sadler
. Through Dave's recruitment efforts, Elisha was soon on a Greyhound bus out of the Motor City and headed for a "Motown" of a completely different kind: Morgantown, West Virginia. Truly a powerhouse of old school funk bass, and steeped in the techniques of such classic funk bassists as Bootsy
Collins
and
Larry Graham
, Elisha also had deep gospel roots and a keen affinity for the music of
Prince
. Still lacking a stable drummer, the team switched focus away from performances and intensely worked on writing and recording original material.
Glenn Perlroth
, an immensely talented keyboardist who had jammed with everyone in town at one point or another (Rasta Rafiki, Circle 6, etc.) had been enlisted for the Chiefs by at least 1994.
Joey Johnson
had been in, out, about and around playing drums with Mike and Chris for years, even doing stints with them back in the Jolly Gargoyle daze.
Joey Johnson
(RIP) was an incredible drummer and an amazing person and friend.  As this archive project continues, we'll be able to hear some of his performances with the Joint Chiefs.  We miss you, Joey!
David Loyd acted as producer as that point, sequencing and arranging the new tunes. Dave enlisted his brother
JoLoyd
to come to the studio to lay down the drums and a lot of high-quality background harmonies that really put the "Greatest Hits" tracks over the top. Of particular note: Jo and Dave's other brother is
Overton Loyd
, the visual artist who also created many classic
PFunk
album covers. Rasta Rafiki's lead singer
D
(now with the
Sunsetters
) also contributed vocals and percussion to the project. He and
Matt Voth
brought the tune "John Doe" to the Joint Chiefs for this project, and it was actually produced with the intention of submitting it (via Mike's sister, actress
Leslie Kay
) to an LA production company making a "teen version" of the reality-TV show "
COPS
."
The release was entitled "
Joint Chiefs' Greatest Hits
." Produced by
John Kessler
(of
Mountain Stage
fame), JoLoyd and the Joint Chiefs at Chandler Audio in Huntington, WV, and with
Kim Monday
at Frozen Sound, Morgantown, WV. All Joint Chiefs Greatest Hits artwork by
Eric J. Murphy
for the Joint Chiefs, 1995. No more physical copies available so you'll have to download them here...plus there are two live tracks from the 1996 Morgantown Music Festival.
The Joint Chiefs began to go different ways in 1996, but got together periodically for "reunion" shows...several in 2002...and most recently a "reunion mini tour" of Morgantown (4/18/08), Charleston (4/19/08) and Huntington (4/20/08).
For a while Chris was playing lead guitar for both the Joint Chiefs and Rasta Rafiki in the beginning of 1996, achieving over 200 performances that year, but eventually settled in the Rafiki camp until they went into semi-retirement NYE 1997. 
Here are just some of the
Joint Chiefs
shows that will be available for download here soon:
10-27-94 The Hedgehog, Morgantown WV
11-4-94 The Firehouse, Wheeling WV
1-28-95 The Hedgehog, Morgantown, WV
6-15-95 The Hedgehog, Morgantown, WV
7-16-95 West Virginia Brewing Company AIDS Benefit, Morgantown WV
7-28-95 The Hedgehog, Morgantown WV
8-11-95 The Catalyst, Elkins WV
6-7-02 123 Pleasant St, Morgantown WV
4-20-02 123 Pleasant St, Morgantown WV
There's a lot more
Joint Chiefs 
flyers, photos, press material and analog recordings that have yet to be digitized and uploaded.  Make sure and
sign up
for updates!