Rasta Rafiki Music with Chris
0:00/7:33

0:00/6:38

0:00/3:16

0:00/12:46

0:00/8:31

0:00/7:37

0:00/5:00

0:00/6:31
Like these tracks?  Visit the
store
to download for the price of your email address!
For more information on
Rasta Rafiki
check out
www.rafiki.com
, which is frozen in 1996, or their myspace page 
http://www.myspace.com/rastarafikiband
When Chris arrived in Morgantown, West Virginia in the fall of 1989, he began playing with old high school friends
Matt Voth
and
Mike Pushkin
in 
Jolly Gargoyle
that played frequently in the student section of town, called Sunnyside. The now long-gone Stadium Inn was where Chris was introduced to the guys in Rasta Rafiki, who had also recently formed their group. They focused on reggae/rock while Jolly Gargoyle were playing more psychedelic and classic rock. The two groups double-billed often at the Stadium Inn pretty often from '89 to '91.
In the summer of '91 the Gargoyle's drummer quit and that became kind of a routine thing for Jolly Gargoyle. Always a hot seat. Rafiki was much more stable, though, and continued on long and hard with pretty much their original lineup. By 1994 they, due to their stability and hard work, were becoming a seasoned road band and had begun steadily gigging all over the east coast. During this time they had become friendly with another little local band from Pittsburgh named
Rusted Root
, who blew up in 1995 and was suddenly opening for
Led Zeppelin
, the
Grateful Dead
, the
Allmann Brothers Band
, and other major artists. Rafiki caught the scent and were ready for similar attention.  Rafiki was an excellent original band, taking reggae and the Dead and psychedelic rock and mixing them all around into something else.
D
and
David Loyd
lived right next door to Chris and Mike above the Nyabinghi, and were all good pals. By the end of that year, their original bassist
Andy Lindsey
had left the band, soon to be followed by the original guitarist
John Schmidt
in early 1996.
So Rafiki needed a guitarist and Chris started playing with both groups. At first the Chiefs got priority but it soon became apparent that Rafiki had their act together and were more professional in attitude and approach. So after a particularly horrible weekend of gigs with the Chiefs down in Charleston, West Virginia, Chris made a difficult decision and began playing exclusively for Rafiki. 1996 was his banner year for shows, with over two hundred performances that year.
During the course of his time as part of Rasta Rafiki, Chris was honored to open for legendary reggae acts like
Burning Spear
,
Culture
and the
Wailers
, as well as perform at large festivals like Grass Roots and Great Blue Heron and many colleges and clubs. Chris had a wonderful time playing with Rafiki and will never forget those daze on the bus. Here's a couple of fuzzy pics of Chris with Rasta Rafiki: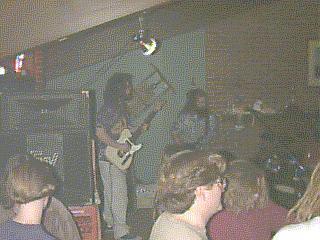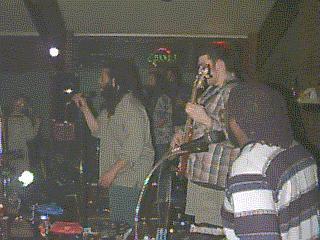 There are more live recordings of Chris with
Rasta Rafiki
to come, as well as (possibly) some forgotten studio tracks!  For more
Rasta Rafiki
, please visit their myspace
page
and tell them Chris sent you!